Education & Advice
The History Of Murano Glass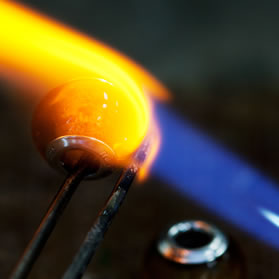 The Emma & Roe Murano glass charms are made using techniques that are centuries old.
Murano glass has a heritage dating back to 1291. The skilled artisans of the island of Murano, just off the shore of Venice, created the techniques of crafting the enamelled glass (smalto) and multi-coloured glass (millefiori) into beautiful jewellery. Today, the Emma & Roe Murano glass charms are created in the age-old tradition using techniques that are centuries old.
The majority of Murano glass is made using the lampworking technique. It is mostly free hand blown therefore no visible seams from moulds are present.
Lampworking is a type of glasswork that uses a gas fuelled torch to melt rods and tubes of clear and coloured glass. Once in a molten state, the glass is formed by blowing and shaping with tools and hand movements.
The glass itself is made from silica, which becomes liquified at high temperatures. Skilled glass workers have a short window of time to mould it as it passes from a liquid in to a solid state. The soft glass can be mixed with different powders directly in the oven or during the glassblowing process, affecting transparency, colours and stiffness.
Murano glass charms are part of the Emma & Roe collection and available in all Michael Hill stores and online.
Shop Murano Glass Charms >