Education & Advice
Captured Moments: The Enamel Collection
Cloisonné (pronounced 'Cloy-zon-nay') means raised edge in French.

Cloisonné first became popular in the jewellery of ancient Egypt, typically in very small pieces such as rings, with thin wire forming the cloisons. These little pockets or raised edges were added to jewellery by soldering silver wires to the surface. These little pockets were then filled with coloured enamel and fired.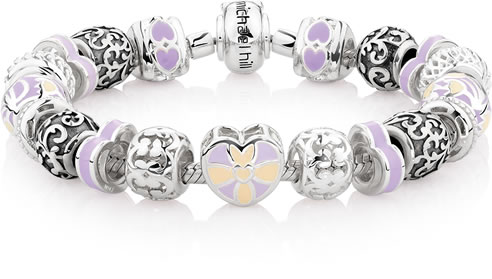 The technique reached China in the 13th century and only the very rich could afford artwork and jewellery that used the technique. The most elaborate and highly-valued Chinese pieces are from the early Ming Dynasty.
Today, our artisans recreate this technique by casting our charms with raised edges in precious metals. The cloisons, or raised edges, are then filled with coloured enamel and fired to create the vivid colours and high gloss enamel look – each charm is a tiny work of art!
The Captured Moments Enamel collection is now available in all Michael Hill stores and online.
Shop Enamel Charms >