The Right Foundation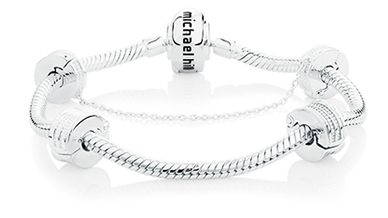 When it comes to your charm collection, the importance of a good foundation cannot be underestimated! The key to the right foundation is a charm bracelet, safety chain & 2 stoppers.
CHARM BRACELET
With styles and prices for every budget, you'll be surprised by what you find. Choose from a wide range of 10ct gold, sterling silver, diamond set, & leather combinations available in a selection of lengths.
SHOP CHARM BRACELETS >
SAFETY CHAINS
Safety chains are designed to ensure you never lose a single treasured moment by securing each end of your bracelet to hold everything together. The safety chain will also prevent your charms from accidently spilling to the floor when you undo the clasp, so it's a must for keeping your pieces safe.
SHOP SAFETY CHAINS >
STOPPERS
Stoppers help maintain balance in your collection – distributing charms in such a way that they'll always sit perfectly on your wrist.
SHOP STOPPERS >
Stylist Tip:
Stoppers are a secret styling tool! Separate feature looks with a stopper to really make them stand out.
Like anything precious, taking care of your jewellery is a must. Protect your investment today, so your pieces will always be there for the world to see.