Celebrate International Women's Day with Michael Hill. During the month of March 2021, for every purchase of these $19 sterling silver heart stud earrings Michael Hill will donate $10 to Dress for Success, a global not-for-profit that empowers women to achieve economic independence.
*For each purchase of these earrings (SKU 16350243) between 1 March - 31 March 2021, Michael Hill will donate $10 (in the local currency) to Dress for Success in the country of purchase. While stocks last.
Thanks for your support! This item has sold out online, but you can still purchase in a number of stores. While stocks last.
About Dress for Success
Dress for Success works with women to help them achieve economic independence by providing a network of support, professional attire and the development tools to help women thrive in work and in life. Their ultimate vision is for a world where women do not live in poverty; are treated with dignity and respect; and are strengthening their families and shaping their communities. With nearly 150 affiliates in 25 countries, Dress for Success works to offer long-lasting solutions that enable women to break the cycle of poverty.
"At Dress for Success, we believe that by working together, we can help a greater number of women to break the cycle of poverty and obtain safer and better futures. Thank you Michael Hill, on behalf of all the women in Australia, New Zealand, and Canada who will benefit from your generosity."
Joi Gordon
CEO Dress for Success Worldwide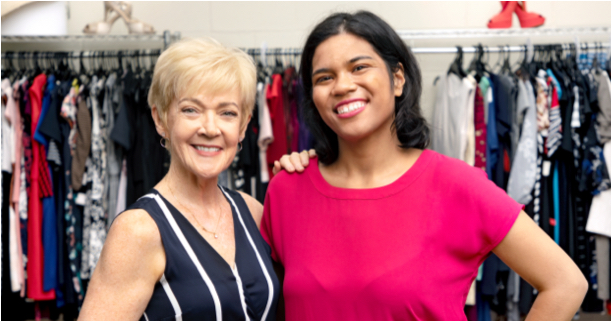 How your purchase will help
We spoke to a real client and a volunteer stylist working with Dress for Success in Australia, so you can see the important work and positive results that your purchase will help to support.