Stun in silver: Bold layers and statement stacks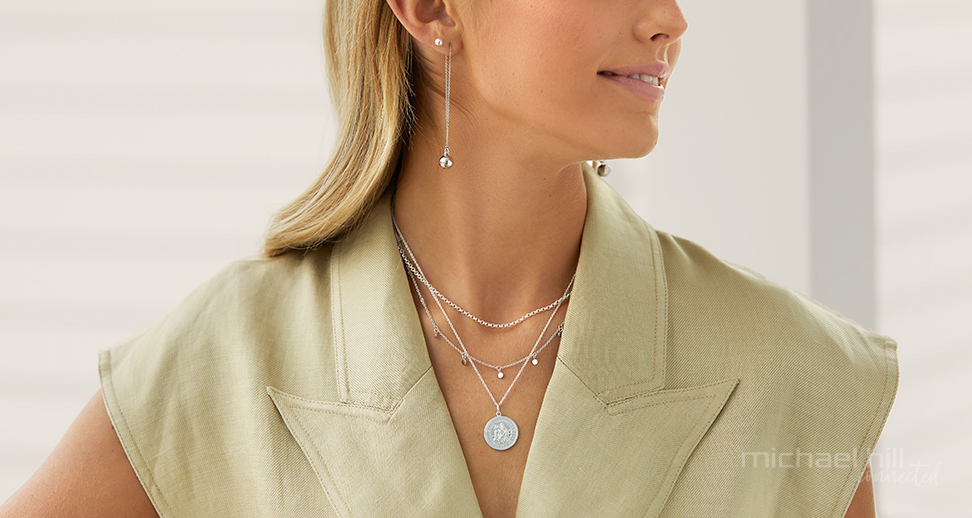 While sterling silver is a classic precious metal, it's also enjoying a moment in the fashion spotlight. This timeless and versatile metal has a modern vibe, and you can wear it to suit your personal style with a wide range of jewellery designs available. If you love the look of bold jewellery and statement layers, sterling silver is also the perfect option to get the look, as it's a more affordable alternative to gold.
Here, we've put together our three favourite ideas for stacking and layering sterling silver jewellery, so you can create a look that's as bold or as simple as you like.
1. Silver ring and bracelet stacks
For a trending look that's easy to make your own, try your hand at a ring stack. Sterling silver rings are perfect for stacking up in the one metal colour, but this versatile shade can also be mixed with other metal colours, such as yellow or rose gold, for a stylish take.
Begin with your boldest ring, and place a complementary one on your next finger. You can also stack additional rings on your first finger to build on your look – try pairing a simple barrel ring with a crossover ring, patterned ring, or diamond ring. Then anchor your stack with a sterling silver ring on your other hand.
To draw extra attention to your sterling silver ring stack, add a chain bracelet or solid bangle – or layer two or more on your wrist.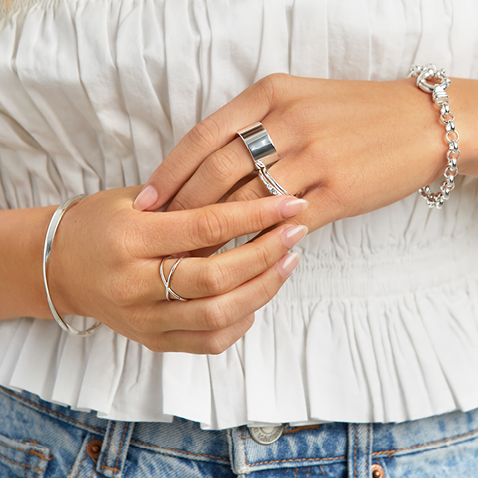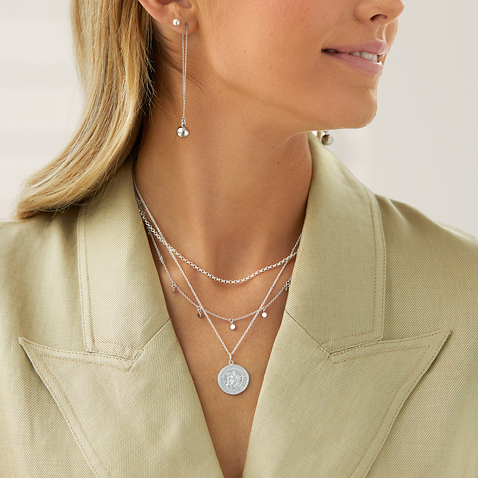 2. Silver necklace layers
Layering your necklaces gives you endless freedom to mix, match, and style your jewellery look every day to suit your mood, your outfit, and the occasion. It's also simple to go as statement or as refined as you'd like.
Start with your favourite sterling silver chain necklace. A classic chain in precious metal is a jewellery wardrobe must-have, and the perfect base layer for each of your looks. For a little more detail, add a second chain in a different texture; for instance, pair a classic belcher chain or curb chain with a sleek snake chain or sparkling bead chain.
If you want more, layer on additional chains, as well as pendants that express your personality and style. Try to keep each layer at different lengths to allow each one to shine.
3. Silver earring stacks
The curated ear is a modern look that you can change up day by day to reflect your mood and the occasion. From the boldest stack that's perfect for the weekend, to an elegant pairing ideal for work or an evening look, a sterling silver ear stack can be very versatile.
For a simple way to style multiple earrings, always start with your largest or boldest earring style in your lowest earlobe piercing, closest to your face. This could be a hoop earring, drop earring, or a bold stud style.
Try pairing hoops of different sizes and widths, multiple stud earrings, or mix hoops, studs, and drop earrings all at once. We also love adding diamonds or gems to create an interesting and unique look.