How to: Style diamond jewellery for every day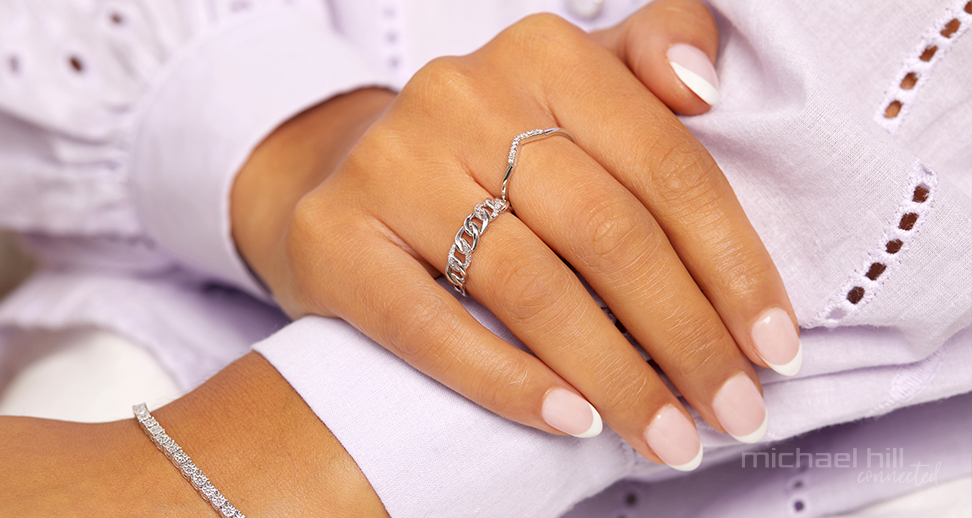 The birthstone for April is diamond, and we're showcasing some of our favourite ways to style this precious gemstone.
Diamonds are beautifully sparkling stones that commonly represent love, so they are most often associated with engagement rings, or 'special occasion' jewellery that would perhaps be given as a gift. However, you can absolutely buy diamonds for yourself, and you can definitely wear them every day!
Whether diamond is your birthstone or you just love this exquisite gem, we've styled up some looks pairing diamonds with sterling silver, yellow gold, rose gold, and white gold to inspire you.
Silver & Diamonds
If you love sterling silver jewellery, a touch of diamonds is the perfect way to bring extra dimension and texture to this modern metal. Plus, sterling silver comes at a more affordable price point than gold, so it's a great accessible option to introduce diamonds to your look. Start small with a sterling silver ring featuring diamonds, or go a little bolder with a timeless tennis bracelet.
As you add to your jewellery collection, you can start stacking rings, layering necklaces and changing up your sterling silver and diamond pieces to suit your look and mood each day.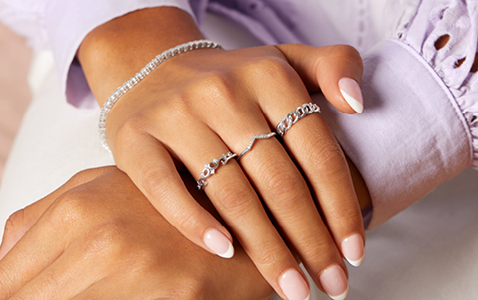 Shop silver and diamond jewellery: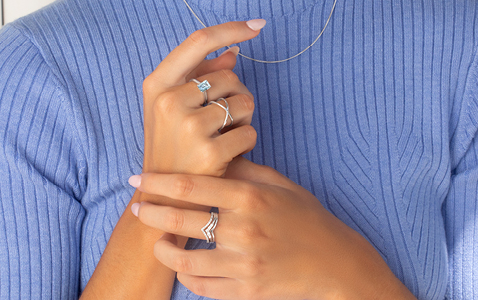 White Gold & Diamonds
White gold is the most-loved shade to pair with diamonds – not only for engagement rings but for timeless fashion jewellery, too. The bright and lustrous colour of white gold is a beautiful complimentary setting to diamonds, and it's also the most versatile shade of gold; so a white gold and diamond piece will make it simple to add a touch of sparkle to your everyday jewellery look.
As white gold is so versatile, we love using a statement piece as the starting point for a jewellery look. A style that stands alone like a bold diamond ring or eye-catching earrings can be your go-to each time you want to add sparkle to your look. You can then layer on additional pieces in plain white gold, styles with diamonds or gemstones, or even mix your metals by adding yellow or rose gold pieces.
Shop white gold and diamond jewellery:
Yellow Gold & Diamonds
A classic combination, yellow gold and diamonds are made for each other. If precious yellow gold is your jewellery go-to, adding diamonds will take your look to the next level while keeping it timeless and versatile.
With the beautiful contrast between white diamonds and yellow gold, you can start with a dainty piece and still make an impact. Find the perfect everyday piece for your style, whether it's a delicate diamond necklace, a yellow gold bangle with diamond accent, or a bold yet versatile diamond ring. Layer pieces in plain yellow gold with diamond styles for a multi-dimensional and modern look. We love a diamond ring stacked with a plain yellow gold ring, or a diamond pendant layered over a yellow gold chain.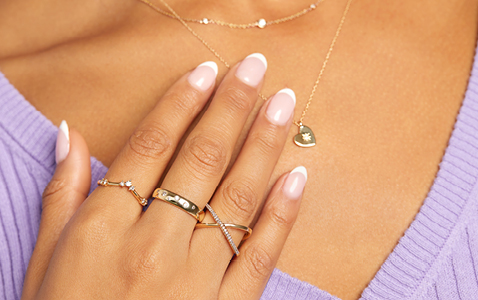 Shop yellow gold and diamond jewellery: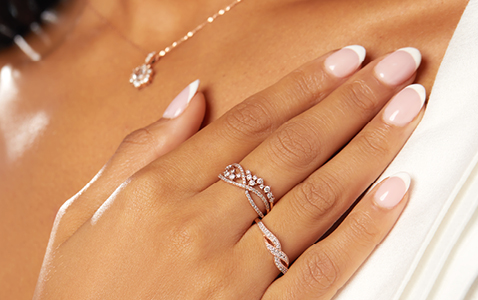 Rose Gold & Diamonds
Rose gold is a more unique shade but still beautifully versatile and timeless, and a perfect partner to diamonds. You can keep it simple and classic with a rose gold belcher bracelet or huggie earrings accented with diamonds, or play up the uniqueness of rose gold with an intricately shaped ring or pendant with diamonds.
If you love rose gold but most of your jewellery is in other shades, a rose gold and diamond piece can be worn alone for delicate sparkle. This shade also looks stunning next to sterling silver or white gold, so experiment with layering your jewels such as a rose gold and diamond necklace over a simple chain. When mixing metals, if you wear two or more pieces featuring diamonds they will help to create consistency and tie your jewellery layers together.
Shop rose gold and diamond jewellery: